You are here:
Registered Interior Designer®
Rina Patel
Vastu Design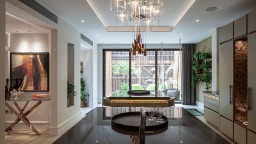 Profile
London based interior designer, Rina Patel has over 20 years of experience in the luxury residential sector, both in the UK and abroad, and founded her company Vastu Design in 1999. It is Rina's passion for art and design combined with her respect for the construction industry and tradespeople that informs her interior design work.
Her approach to every project is first and foremost about understanding her client's lifestyle and aesthetics. Once this is established, she develops an interior design scheme to reflect their needs and desires. The end result are luxury environments defined by well laid out space, attention to detail, refined materials and sophisticated colour palettes.
Rina is described as a people's person, approachable and easy to work with among clients and design professionals alike. She has exceptional project management skills including a minute attention to detail, strong planning and organization, and total efficiency throughout each and every phase.