You are here:
Registered Interior Designer®
Samantha Johnson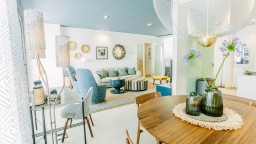 Profile
Less show home, more your home. We work with you to create bespoke spaces that not only look beautiful but are perfectly tailored around your life. They may be edgy, witty and colourful, but they're always eminently liveable. We design interiors you'll be proud to entertain guests in, yet also relax in… you may even find yourself staying in more.
Samantha Johnson, a Buckinghamshire based interior designer. Over the last 22 years, she has enjoyed creating wonderful homes for clients in the UK and Europe. Most of her work is around the Home Counties and London area, with projects in Surrey, Hertfordshire and Berkshire. But she has also transformed holiday homes in Cornwall, Mallorca, Marbella and Switzerland.
"My early career in hospitality, and my growing family, have nurtured my intuitive understanding for how people interact with interiors. I've combined that with a love of design and a good listening ear to create interior design that mixes high-end luxe with practical liveability. You'll find that working with me is a partnership, but also an inspiration.'