You are here:
Registered Interior Designer®
Carina Raymond
Studio Raymond Limited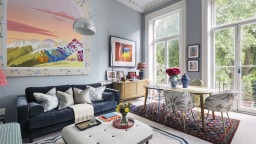 Profile
Studio Raymond is a London based interior design firm, founded in 2021 by Carina Raymond and specialising in residential projects in the UK and abroad. Prior to founding Studio Raymond, Carina worked at Taylor Howes for 7 years.
At Studio Raymond, we cover every aspect of the interior design process from concept to completion, thus taking away the time and stress involved with refurbishing a home. We are equally happy to work on full house renovations as we are to work on smaller projects.
Attention to detail is key and we work closely with clients in order to meet their vision and aspirations for their home. As a result, each home is unique and tailor-made to suit the client's lifestyle and personal aesthetic.
We tackle each project with a layered approach, where every element of the design process is carefully curated in order to create a balanced and harmonious space that is functional and pleasing to the eye. Colour and pattern are used gracefully, resulting in a timeless design that is also playful and fun.