You are here:
Wedi Systems (UK) Ltd.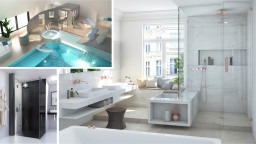 Profile
The world of wedi systems offers a variety of products for bathroom and wet room projects – from shower solutions, through design elements and construction systems to a wide range of accessories – the strength of the brand lies within the floor-to-ceiling full system solution that comprises of a multitude of high-quality modular elements that interlock with one another.
Ever since the company was founded in 1983, the brand has always been close to its clientele. Designers, contractors and tradesmen helped shape the product portfolio into what it is today: versatile, functional and above all practical components that are known for their superior quality and guaranteed system safety. Keeping clients' interest at focus, wedi refuses to compromise on quality making its products all the more honest and authentic. Every element, individually as well as a part of the system, does what it is designed for and does it in a secure and safe way.
This is why, going well beyond a standard manufacturer's warranty, wedi takes responsibility for the quality of its products hence the functionality of their systems for 10 full years after they've been installed.
Whatever the project, new build or renovation, there are truly no limits when it comes to wedi's diverse product range. From shower elements specifically designed for use in suspended timber floors through shower trays with integrated drainage that are developed for renovation projects to exciting shapes for design led areas such as round or shell shaped showers with matching wall elements that can be installed free-standing – all can be manufactured according to requirements if the desired size is not already available in the standard product range.
Thanks to their modular design, wedi elements can be combined in countless variations resulting in a customised design without the need for bespoke production.
There are numerous design solutions available in the standard product range so that a shower can easily be enhanced in just a few steps - comfortable benches, niche solutions or robust partition walls with storage for example. Design, however, is not restricted with wedi - tailor-made bathroom furniture such as washstands, shelving, or customised bath cladding are also straightforward to create with the aid of versatile wedi building boards that are not only available in a multitude of thicknesses but also in different formats, such as flexible formats that mould into any desired radii.
The brand is already well-known for its waterproof solutions for bathrooms and wet rooms but is about so much more! wedi can provide clients with the perfect solution to almost any bespoke requirement: whether it be a steam cabin, a Jacuzzi or an indoor pool with heated benches or loungers, wedi helps plan, manufacture and deliver to site.
In the hands of a talented designer, however, a wedi building board can turn into something else entirely. It can be used to create exciting design led solutions in kitchens, offices or in fact, any other spaces where a reliable, bespoke solution is needed. Besides their unrivalled waterproof qualities for interior applications, they are stable, inert and extremely lightweight whilst load-bearing. Whether it be a bespoke kitchen island or a complete partition wall with or without integrated shelving or maybe a quirky reception desk area, when it comes to the unique versatility and superior quality of wedi building boards, interior design possibilities become endless. There are numerous different thicknesses and formats, all of which are extremely easy to cut to required dimensions and ready to be tiled or plastered then painted as required.
Not sure about the surface finish? A recent innovation the wedi Top series features high-quality stylish design surfaces in Grey and Anthracite Black with an aesthetic natural stone look or in White with a contemporary mineral look. As a modern alternative to conventional tiling the range represent the perfect unison of functionality, practicality and longevity.
A diverse product range with versatile and customisable elements that allow designers to plan with confidence. This is wedi.
Would you like to meet us? We look forward to hearing from you. Please call or enquire via email.