You are here:
Registered Interior Design Practice
Absolute Project Management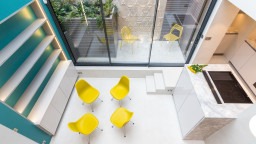 Profile
Absolute specialise in stylish and efficient residential property renovation projects. We can help with all aspects of a project including design, planning and sourcing contractors to execute and deliver your transformational home renovation.
Our Interior Design service helps inform the overall specification of works and ensures the project is brought to life with an overall vision/goal.  This includes: advice on styles, layout options, feasibility and cost.  Production of detailed CAD drawn plans, elevations and 3D images of the proposed designs. We will also source fittings, furnishings and suggest colours, lighting, and much more!
What sets us apart, is our extensive experience in Project Managing the preparatory and on site phases.  Our team can assist with: obtaining the required permissions/ certifications; such as Planning permission, listed building consent, building regulations certification, etc.  We can help you to engage appropriate specialists where necessary; structural engineers, damp specialists, home automation suppliers, etc.  Finally, we will oversee the work on site- preparing schedules of work, timelines, problem solving, and acting as the interface between clients, contractors and specialists.
Our role in your project is to: Minimise the time and effort you would need to spend; on designing, organising and managing work carried out on your property.  We help ensure you get the most from your space; with good design, careful spatial planning and beautiful finishes and fixtures.  We work with you to ensure you achieve the maximum for your budget; advising where to spend more and where you could make savings.
We're a small but dedicated team with a wide range of design and renovation experience.  We have excellent working relationships with many local, national and international specialists and suppliers; ensuring great service and good trade discounts (which we pass on to our clients). We work with a small number of select contractors who we trust and know will produce the high level of finish our clients seek.
If you'd like to know more, see our website www.absoluteprojectmanagement.com for: previous projects, more on our services and our Journal which has renovation tips and specialist knowledge.
Alternatively, get in touch directly- 0207 697 0603