You are here:
Registered Interior Designer®
Angela Bardino
Jacobs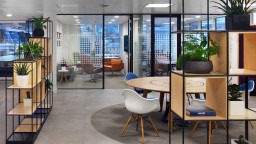 Profile
An active presence in the workplace interiors regularly contributing to the commercial office debate in the both press and industry with 16 years expeince Angela is passionate about design solutions that both perform and delight aesthetically. Blending methodical research and design thinking together to deliver bespoke design solutions for clients. Pushing the boundaries of design with sustainability and human, end user experience at the fore.
Jacobs leads the global professional services sector providing solutions for a more connected, sustainable world. Across our company, across our offices, across the world, we're continually challenging today to reinvent tomorrow. With approximately $12 billion in revenue and a talent force of more than 50,000, Jacobs provides a full spectrum of services including scientific, technical, professional and construction -and program-management for business, industrial, commercial, government and infrastructure sectors. At Jacobs, we solve the most important problems, the ones for the real world – making life simpler and more seamless along the way. Each of us is united by the drive to dream big while keeping our feet planted firmly on the ground. We're energized equally by the extraordinary as the seemingly mundane – finding nuggets of inspiration in sometimes routine places. And our shared curiosity means we look beyond for insights and ideas. Our solutions are creative and influence how we live today as well as into tomorrow. We're some of the smartest minds in the world, which means we always know there's more to learn.
For more information, visit www.jacobs.com, and connect with Jacobs