You are here:
Registered Interior Designer®
Clare Topham
Clare Topham Interior Design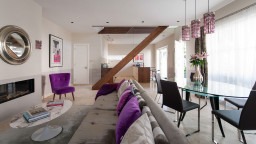 Profile
Clare Topham Interior Design provide a whole range of services, with an emphasis on a friendly, down to earth approach. We work with you to understand your practical needs and personal style, and provide you with solutions to your interior design dilemmas! That could range from a paint colour consultation to designs for structural renovations. Creating a love of your home and an enjoyment of the design process are Clare's key aims.
Clare is based in Sussex and works on projects throughout the Sussex, Surrey and London. We have also worked on several projects in France.  
Clare has established a reputation for creating elegant and comfortable interiors mixing contemporary and classic styles. Whether meeting with clients, co-ordinating works or liaising with architects and surveyors Clare's efficiency and creative approach are her driving force. Her approachable nature and her ability to understand her client's need and tastes ensure her clients feel in safe hands.