You are here:
Registered Interior Designer®
Eleonora Romano
Romano Interior Architecture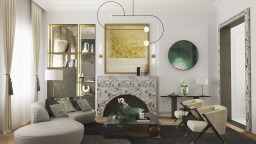 Profile
Romano Interior Architecture is a boutique design practice based in London and working internationally, specialized in luxury interior architecture. Attention to detail and creative use of natural materials are base elements of our signature approach in all our projects, creating a unique story for each space.
Eleonora has had the privilege of working in several fields of architecture and design before setting up the studio. With  degrees in architecture, interiors, art and restauration, her knowledge and experience  provide her with a global and comprehensive vision, integrating all aspects of design to conceive a space complementing every architectural style. Drawing inspiration from the location, building characteristics and the client's requirements, interests and lifestyle RIA creates timeless interiors with the finest quality.
For the last 15 years Eleonora has  worked in the luxury market, heading a great variety of projects, from hospitality, residential and retail to landscape and furniture design.
Designing a home is a very personal process, and it requires creating a specific solution tailored to the client's mood and aspirations. Designed with their  lifestyle in mind, through visual research and conceptual thinking, RIA create spaces with a refined aesthetic, strong sense of place and a unique concept. Sourcing and designing bespoke pieces from the extensive network of craftmen cultivated over the years, layering art and architecture: are key elements of the design process, creating a balance between classical and contemporary elements.