You are here:
Registered Interior Designer®
Katie Malik
Katie Malik Studio Ltd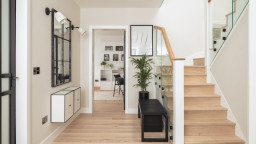 Profile
Katie Malik brings years of diverse interior design experience to the home improvement industry in her Cambridge based studio. After graduating from Cambridge University as a linguist specialist, she began her new training in Interior Design at Chelsea College of Art in London and the National Design Academy.
Katie's work has received a lot of recognition and was awarded by Lux and the UK Property Awards. Additionally, her work has been featured in the Ideal Home Magazine and Houzz editorial articles, as well as her appearance on the d-list in 2019. She became a finalist at the Grand Designs live in 2018.
Being experienced in the design field for years has brought Katie to an interest in creating books showcasing her works; 'Love Your Space' and 'Home Interiors: Adult Colouring Book' are two of them, which cover multiple home interior designs she had previously worked on.
Katie and her team's goal is to transform stressful homes into peaceful, nurturing spaces for growth and success.  The KMI team stays extremely organised and very detail-oriented, having exceptional planning and design skills for new, spatial ideas. Katie is skilled in furniture, finishes and fixtures selection, and project management. Katie and her team are problem-solvers, and everyday, they strive to build a safe, sustainable, innovative and healthy environment for their clients. KMI stands by and commits to designing luxury spaces for life.