You are here:
Registered Interior Designer®
Sarah Ward
Ward & Co.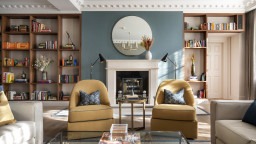 Profile
Ward & Co is an interior design and architecture firm based in London. Founded by Sarah Ward and daughter Rosie Ward, the studio is known for delivering classic contemporary designs with a bold flair, with projects spanning the UK and abroad, from rural Suffolk to London, to the slopes of the Alps and the shores of the Caribbean. Built on 35 years of experience, the studio offers an authentic, highly personalised approach to interior design, with a deep respect for culture and context considered through a contemporary lens, enabling them to deliver impressive spaces that stand the test of time.
As a family business, Ward & Co offers a unique proposition; Sarah and Rosie's relationship allows for maximum collaboration and agility, and clients enjoy the combined expertise, insight and imagination of two Creative Directors at the helm. Not a follower of industry trends necessarily, the studio's work stands out from the crowd for its classical style of clean lines and warm tones threaded with confident colour, maximising the longevity of each project, in terms of both quality and design.
Ward & Co takes conservation, renovation and redesign projects from conception to completion, across private client, developer and commercial sectors, working harmoniously with planning consultants to finish interior design projects on time and within budget. The studio's dedicated Interior Architects combined with the wider team's technical expertise in spatial planning, ensures interior and exterior layouts are always functional and fitting, for each unique design brief.