You are here:
The Furniture Artists Collective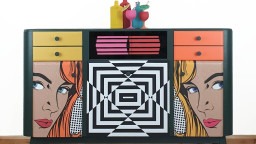 Profile
Welcome to The Furniture Artists Collective - where sustainability meets artistry, and passion fuels creativity.
We are a team of skilled and imaginative independent furniture upcyclers, refinishers, and design professionals with a shared passion for telling the story of vintage and heirloom pieces.
Our expertise is tailored to the needs of design professionals, offering everything from complete transformations to signature accents that will elevate any project. Whether it's breathing new life into cherished family heirlooms or carefully selected finds, our speciality lies in the art of upcycling and restoring vintage furniture.
At The Furniture Artists Collective, we strive to exceed your expectations and create a legacy piece that's truly unique to your client. Our members hold themselves to the highest standards of excellence, constantly pushing the envelope to create innovative, beautiful, and unforgettable work.
But we're more than just a furniture collective. We're a community of artists committed to making a positive contribution to the world of home décor and design. Our mission is to educate others about the beauty and global necessity of reclaimed and restyled furniture, and we invite you to join us on our journey towards a more conscious and creative approach to home design.
Allow us to introduce you to the remarkable artisans who, past and present,  proudly represent the Furniture Artists Collective as BIID Industry Partner Ambassadors.
We're absolutely thrilled to have this opportunity to showcase our incredible individual artists. The portfolios listed below are just a glimpse of the diverse talent offered by over 60 artisans within the TFAC. They beautifully embody the spirit of our collective, celebrating creativity in its many forms.
Explore the latest projects from TFAC contributors by scrolling down to the 'PROJECTS' heading. Click on 'VIEW PROJECT' beneath each artist's image
Upcycled by M - Gloucestershire
Blue Boy Furniture - Buckinghamshire
Godfrey's Ear - Derbyshire
Classic Lines Designs - Yorkshire
Gracie's Attic -  Yorkshire 
Thirteen Furniture - Lancashire
The Furniture Painting Company - County Durham
Michelle Aston Designs - Sussex
Explore the work of past contributors to TFAC projects by clicking on the website links below.
Amy Edwards Home - Hampshire
Boho Bard -  Warwickshire
Claire Hill The Furniture Restylist - Somerset
Granola Girl Treasures - Florida
Lady Griddlebone -  Glasgow
Liz Clarkson Interior Transformations - Worcestershire
Little Gecko Interiors - Hampshire 
Pinkyswifts - Northamptonshire
Explore our portfolio, connect with any of our collective of member artists by visiting our Directory of Artisans, and discover how we transform furniture and home decor into something beautiful and sustainable.
Welcome to our world, where art, sustainability, and design intersect.
To find out more, please get in touch with us at info@furnitureartistscollective.com
Our services:
 Furniture upcycling, restyling, painting, decoupage, stencilling, and foils
Furniture restoration
Furniture sourcing and commissions
Upholstery
Home Accessories
Workshops
Kitchen Restyling