You are here:
How To Work With Journalists To Promote Your Business
Developing personal contacts with interiors journalists and showing off completed projects on your website could both garner you great publicity. Find out how...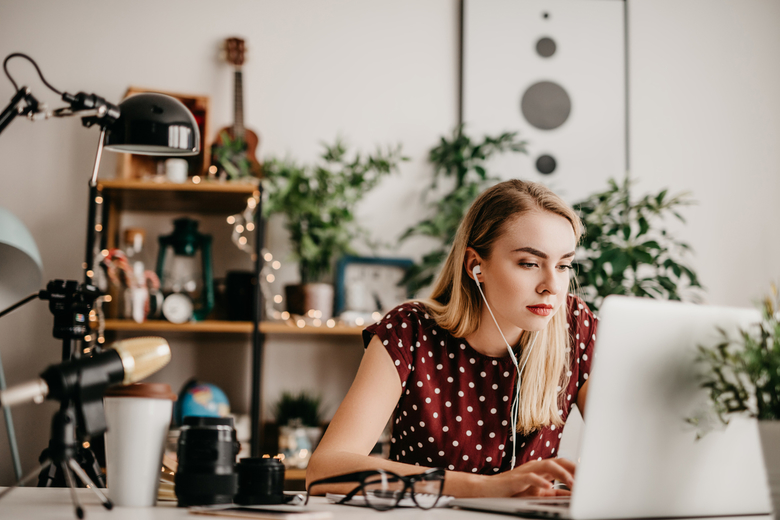 Your name appearing in the editorial pages of homes and interiors magazines and websites could bring you new clients. It can result in wider recognition, demonstrate your professional skills, and win trust. But if you don't know any interiors writers, how do you start a professional relationship with them? Here's what you need to know.
Why do journalists need interior designer contacts?
Writers and editors could need your help for various reasons. They may require case studies to fill their pages, and these might be single rooms or whole homes. If you already have professional photography of a project you've undertaken and your agreement with the photographer allows these images to be reproduced in this way – and the client has given their consent – you could see your work featured prominently.
Depending on the magazine or website, a journalist may want to interview you about the project, or they may want to talk to your client. If both these options are available for a particular project, there's more chance of your work being featured.
Another reason journalists might value being in touch with you is so they can obtain expert advice or comment to use in a feature. This might be accompanied by a photograph of you, so make sure you have one available to send out. Although this won't result in images of your work appearing, it's still a valuable endorsement. A link to your site or other online professional listings should appear in a web feature, or the name of your practice, web address and business phone number in a printed publication.
How do you find journalists?
Homes and interiors magazines target different audiences, home styles and budgets, and you should consider which fit your practice. Printed magazines should include a list of staff with email addresses. If these aren't shown, a phone call to the company switchboard should get you the format of emails, so you can get in touch directly with the individual staff members listed.
Browse online, too, for the sites that show the kind of projects you would want yours to be among. Individual journalists' bylines as well as general information on getting in touch should be available.
Be aware that many journalists work freelance, and across many titles and sites. Once you have seen their byline on a feature, you should be able to track down their contact details by searching for their professional websites.
Introduce yourself to journalists
It's worth creating a document containing photography and very brief details about a recent project – or even a couple in separate documents – that you can send out. Let journalists know it is available to feature, and that you or the homeowner or both are available for interview. If the property can be re-photographed if required, say so.
Introduce yourself briefly in the covering email and put in a link to the projects page of your site, so they can view other work.
If you're available for expert comment, let them know that, too.
Don't expect to necessarily hear back immediately; your details may be kept for a future occasion.
Let journalists find you
Journalists in search of case studies for their features may approach you having seen projects on your site. To maximise the chances, follow the guidance in our feature How to make sure your website works for your business
Compile a journalist contact list
As you complete new projects that are available for websites and magazines to use, send them out to the list of both staff and freelance journalists you've put together through your research. As with other group communications, ensure your list remains private from the recipients.
Consider the keywords you might use to grab attention in a busy inbox. For example, you could use something like: Contemporary London home redesign project in the subject box. The first lines of the email can then provide more detail.
What journalists need from you Try to respond swiftly to any enquiry from a journalist, even if it's a holding email telling them when you'll reply fully. If the individual writer is not sure if you're there or can help, they will generally move on rather than wait.
Monthly magazines, particularly, may seem to be asking for photos or information way in advance of publication. However, this does not mean the time is available to you as the schedule will be strict.
If one of your projects has been used as a feature or case study elsewhere or is going to be published, tell the enquirer. It may not be a problem, depending on the context, but you'll waste your own time and theirs if this comes out later on.
Asked to write something? Make sure you know the word count and the deadline for providing this.
Working with journalists will undoubtedly take up time, and can seem very demanding. Nonetheless, it could be beneficial, growing your client base and boosting your professional profile. Whether your projects or words appear in print or online, they can gain you publicity and business far into the future. Be assured, too, that journalists will keep returning to reliable creative sources, so your relationship can last for many years to come.
Teach potential clients why they need your design skills. Use our guide
The BIID often has opportunities for its members to feature in the press and speak at industry events, if you would like to be more involved in this please email charlotte.davies@biid.org.uk