You are here:
Registered Interior Designer®
Chloe Bullock
Materialise Interiors Limited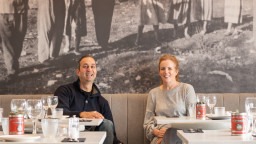 Profile
Materialise Interiors is an award-winning, B Corp Certified, Brighton-based interior design company run by Chloe Bullock, working for clients in Brighton, London and the South East, offering sustainable, healthy and vegan interior design for commercial and residential clients.
We are growing more and more aware of where things come from, the people & processes involved and the impact on the planet.   So to support this, Chloe helps clients by creating spaces and specifications that have a lower impact on the planet and people - whilst also looking luxurious!
We  are reported to be spending 90% of our time indoors and our spaces are increasingly made more and more air tight.  So it's important we are mindful of what we put in those spaces with us as inside air quality can often be many times worse than outside.
ANIMAL FRIENDLY, HUMAN FRIENDLY, PLANET FRIENDLY INTERIOR DESIGN
Chloe can help with a broad range of interior design projects; from a single fixture design to full design service - whatever is needed. She has worked collaboratively with graphic designers, joiners, sign makers and builders since 2005 so can also help with rebranding and oversee an entire fit out including branding and shopfront if required.
Chloe brings a wealth of trade contacts along with a reliable network of furniture and lighting suppliers and manufacturers to help deliver your project. Projects are mainly corporate and commercial properties but residential interior projects can also be undertaken on request.
The extent of her involvement can span from a complete design and build project, to individual parts of a project 
Fixture design (to date; retail fixtures and reception desks); 
CAD furniture layouts; 
Detailed drawing pack for trades; 
Implementation of rebranding to interiors and shopfront 
Preparation of shopfront and signage and necessary planning applications 
Entire interior fit out including branding and shopfront design and build where required. 
Colour schemes. 
Alcohol licensing drawings 
Projects worked on to date:
residential interiors
dental practices (conversions from former offices, residential and retail unit to practices)
offices
retail design
department store café concept
high street retail interiors
high street retail fixture concepts
bus design and specification
bakery design
cafe design
retail office design
Further learning and memberships
Chloe is part of the healthy building movement:  
Living Future Accredited  Living Building Challenge 4.0  Regenerative Design   April  '23
Healthy Materials Advocate  -  ART & DESIGN WITH PARSONS CERTIFICATE PROGRAM
Healthier Materials & Sustainable Building PCID 0605 X1
Materials and Human Health - PCID 0601 Xk1
Building Products and Chemistry - PCID 0602 X1
Healthier Material Design & Specification - PCID 0603 X1
Executing a Healthier Project - PCID 0604 X1
VEGANDESIGN.ORG CERTIFIED™   
Materialise Interiors can offer clients vegan and cruelty-free as an option for the design and specification of their business or home interiors. It's very easily and effectively done and alternative specifications can be shown as part of the design process.   Chloe was the first interior designer in the UK to gain the certification - which complements her background in sustainable interior design.
http://www.certifiedcrueltyfree.net/statistics/
FitWel® is part of the healthy building movement and is a building standard which advances human health and wellness in buildings and communities.  In other words - it's a new approach to healthy building design which makes the building work for it's users rather than the other way around. The standard covers air and water quality, nourishment, healthy lighting and daylight, fitness, mind and comfort.  The standard is science-based and evidence-based and is proven to greatly improve the user experience, resulting in happier, more engaged and productive people.  I can apply these principles to clients projects and help with certification.  https://fitwel.org/
Chloe is also a Fellow of the Royal Society for the encouragement of Arts, Manufactures and Commerce. The organisation encourages industry to work together on challenges that society faces.
https://www.thersa.org/fellowship/find-a-fellow/Profile/152624