You are here:
Registered Interior Designer®
Dee Gibson
Velvet Orange Ltd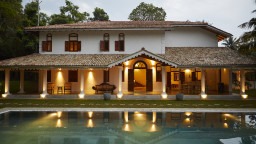 Profile
Dee Gibson is a London based, residential interior designer with nearly 20 years of experience working with private, residential clients and focusing on whole house refurbishments and extensions. In 2018, Dee opened Kalukanda House, a boutique hotel in Sri Lanka which she designed and built. The hotel is part of the Hip Hotel collection, and Dee has been a regular speaker with the BIID participating in panel debates and giving talks on her work.
Testimonials all speak of beautiful, individual, functional designs and an approachable working style. Her work showcases sumptuous, luxurious, tactile interiors incorporating individual style relevant to each client. Regularly working with architects, specialist craftspeople and main contractors, Dee has built a reputation as a creative, committed and innovative designer who puts all clients at the very centre of her designs. Taking time to get to know her clients and understand their needs is a key part of her process and collaboration with them is an important ingredient. A personal successful track record in property development helps her to apply business sense to all her projects.