You are here:
Registered Interior Designer®
Henry Prideaux
Henry Prideaux Interior Design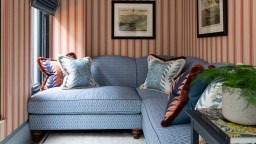 Profile
BIOGRAPHY
Henry Prideaux Interior Design was established in 2014 by Henry Prideaux to provide a personalised interior design service for private clients. Following an introduction in his early twenties to interior decorator Jonathan Hudson, Henry Prideaux learned the trade before honing his skills within some of the industry's most recognised interior design practices and is proud to include Nicky Haslam's NH Design and The Studio Harrods in his professional repertoire. These foundations have given him a great knowledge of different interior styles, an understanding of space and proportion, together with a sense of good taste, enabling him to deliver a range of residential and commercial projects in London, the UK and international destinations. As the creative force behind the design side of the company, Henry is passionate about interiors and constantly strives to develop beautiful, original, bespoke design to add to his already impressive portfolio.
SERVICES
Henry Prideaux Interior Design provides a comprehensive and professional interior design service from concept to final installation, implementing interior design to enhance every property so that each home is designed to be unique yet maintains style, creativity and practicality. With a focus on his clients individual lifestyle requirements, Henry works alongside a range of trusted consultants, contractors, suppliers and artisans ensuring a personalised service and a thoughtful approach to result in a lasting impression.