You are here:
Registered Interior Designer®
Robert Thake
ROBERT LONDON DESIGN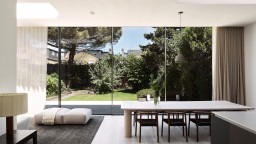 Profile
'Design House for Emotive Interiors'
Robert London are a holistic and collaborative Design House, based in the heart of London. The design team, led by founder and creative director Robert Thake, deliver interiors that are honest, built to last, using natural materials.
Interior Design
We are interior designers that create beautiful, practical and intuitive interior design solutions for residential, retail and hospitality clients. Above all, our work is responsive to the unique needs and requirements of the people who will be using the spaces we create. With an emphasis on use, longevity and honesty in materials and configurations, our designs are sensitive to location and context. Our design style is one of effortless elegance, ensuring that an enduring quality to the design prevails.Our process is defined by efficient coordination and open communication with our clients, and our services can be incorporated at any stage of the build, from pre-planning through to furniture specification and installation.
Space Planning
We come to a detailed understanding of the way a home is used through in-depth conversations with our clients. By listening, asking questions and observing how the space behaves and is used, we can create highly bespoke solutions that respond to the needs of a family, couple or individual, as well as to the nuances of the property itself. We consider the unique ways in which each of our clients live, the individual requirements and priorities, and respond with highly personalised design solutions that are sensitive to the context.
Furniture Design
Our foremost preoccupations when designing objects are proportion, use, longevity and relationship to space. We take an intuitive approach to creating beautiful, purposeful furniture pieces which respond to the spaces they inhabit and the people they serve. We collaborate with small scale fabricators who align with our commitment to honesty, care and rigour in construction processes and materials. These values are present in every object we create.
We believe in the strength of collaborations and working as part of a larger team.  Our team includes creative designers, technicians and specialists in furniture and material specifications.