You are here:
The Solid Wood Flooring Company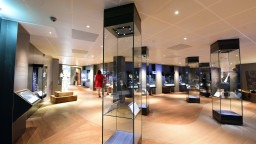 Profile
The Solid Wood Flooring Company is a Fully Sustainable Flooring Manufacturer. We are FSC and PEFC Certified for all our Wood Flooring. London Showroom is at The Building Centre Store Street London:and you can see the map and location here.   Email: martyn@thesolidwoodflooringcompany.com   
A large proportion of our wood floors have been designed and manufactured to exacting specifications as specified by architects and interior designers. We only use the latest, state-of-the-art machines, adhesives and finishes and are always striving to continually improve and develop our products to increase the range of wood flooring options available. The expert team at the Solid Wood Flooring Company have broad industry experience and this can be evidenced by the amount of technical flooring advice for contractors provided on our web site. We ensure all our staff are fully trained and endeavour to offer the best, most friendly and professional service in such a diverse industry.
Designs of wood floors by interior designers and architects architectural and design projects have specific, demanding client requirements with short lead times. It takes a wealth of experience to deliver such projects, both within the time frame and on budget. One of the crucial roles in such projects is the supplier and, as suppliers and manufacturers we have been involved in many successful completed projects both in the UK and abroad. Our wood flooring technical centre is a valuable resource for architects, designers and contractors and our value engineering services mean that we can help you deliver a quality product even when budgets are shifting at the end of a project. We have a comprehensive wood flooring inspiration gallery on our web site.
Our wooden flooring is specifically designed for the UK market due to our specialist knowledge and experience of working with Architects and Interior Designers. A large number of our products have evolved from Architect and Designers specifications where we have been commissioned to manufacture a particular wooden floor to a very specific design. If we do not have the wood floor you require in our range, we can manufacture it to your exacting specifications providing you meet our minimum m2 requirements.
We offer a full and free wood flooring trade sample service for all of our flooring products and you can easily order them on the web site, gather expert advice by calling 01666 504015 or emailing our flooring experts.
We are FSC and PEFC certified and follow the Timber Trade Federation's Responsible Purchasing Policy. This section reviews our ethical code of conduct and provides links to our certifications. If you have any more questions on our Responsible Purchasing Policy please call us on 01666 504 015. We have now linked up with Gone West to plant 4,000 new Oak trees every year.